The Los Glaciares National Park is located in the Argentine part of Patagonia (Santa Cruz Province). It is the largest national park within the country of Argentina and was declared a World Heritage Site by UNESCO in 1981. It is home to part of the Southern Patagonian Ice field and contains some of the region's largest and most breathtaking glaciers (including Perito Moreno Glacier) & huge mountain lakes. In the north, Cerro Torre and Mount Fitz Roy's jagged peaks rise above the mountain village of El Chaltén.
The best way to explore some of the more than 250 glaciers and the Patagonian Andes within Los Glaciares National Park is a four- or five-day journey that combines hikes to the
• Pinnacles of Mount Fitz Roy & Cerro Torre,
• Nature Reserve "Los Huemules"
• top of Loma del Pliegue Tumbado and to
• the famous Perito Moreno Glacier and Lago Argentina, the largest lake in Argentina.
Which Are the Best Hikes in Los Glaciares NP?
Starting from the mountain village El Chaltén, day hikes to Mount Fitz Roy and Cerro Torre: You'll explore the park's northern region, hiking to "Laguna de los Tres" (the best viewpoint for Mount Fitz Roy), "Laguna Torre" (the best viewpoint for Cerro Torre) and the "Madre and Hija" lagoons.
The day hike to the Loma del Pliegue Tumbado lookout is one of the most impressive in the region and offers a unique opportunity to see Cerro Torre and Fitz Roy with their glaciers and lakes from one point (weather permitting). On the way back you can expect fantastic views of Lake Viedma with its intense turquoise blue.
Tackling the region's famous trails into one longer adventure offers more opportunity to explore glaciers, valleys and the South Patagonian Ice Cap.
Travelers who choose a multi-day trek in Los Glaciares can veer away from the more crowded trails, as well as try mountaineering and ice trekking in some of the park's most remote areas. Hike by day, then stay in a mountain campsite each evening, waking with sunrise views of the peaks and glaciers.
Los Glaciares National Park Trekking Map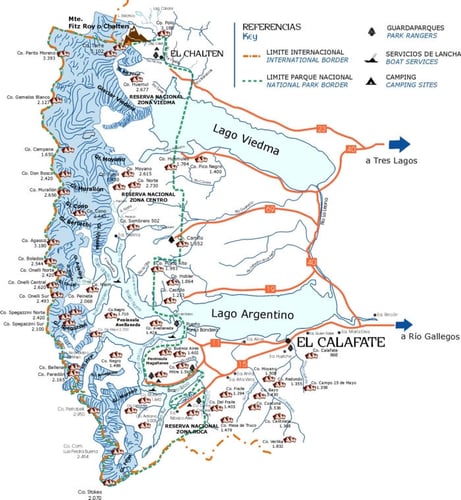 Are There Off-the-Beaten-Path Day Hikes?
Hikers seeking solitude in Los Glaciares will love the Los Huemules Nature Reserve, to the north of El Chaltén and bordering the park. The private reserve offers a number of trails of varying difficulty. The gentlest walks are Laguna Azul, Cagliero Glacier and the Electrico Valley, while Loma del Diablo lookout hike is a bit more challenging.
Wildlife is abundant in the reserve, including Magellanic woodpeckers, condors, puma and, of course, the Huemules (Andean deers). The hikes here are suited to those who want a quiet nature experience to complement the spectacular (and more crowded) Laguna de Los Tres and Laguna Torre treks they might take on other days.
When Is the Best Time to Visit Los Glaciares National Park?
The prime tourist season at Los Glaciares National Park is from December to February. Temperatures in the park's two main towns, El Calafate and El Chalten, run between 10°C and 30°C, with dry, sunny, windy and quickly changing weather patterns. As with other parks in Patagonia, the shoulder seasons of October-November and March-April can also be an enjoyable time to visit and has the added benefit of fewer crowds. Springtime showcases blooming wildflowers, while fall offers spectacular fall foliage.
What Wildlife Will I See?
Throughout Los Glaciares National Park, hikers can expect to see more than 100 species of birds, including the Andean Condor. The black-chested buzzard eagle is often seen in the north end of the park. Look, also, for puma, Andean deer (Huemul) and gray fox.
Why should I book with a local agency?
A local Los Glaciares National Park tour operator, like MOSER Active, can provide peace of mind, thanks to their experience and expertise in the region, as well as guides who have spent hours on the same trails you will hike. In addition, a local agency can provide porter service to assist on your trek and, should the need arise, are able to provide emergency assistance and first aid. Choosing a local travel agency also supports the community you are visiting and promotes mindful travel practices.
Do I need a vaccine when hiking in Los Glaciares Park?
There is no obligation to get specific vaccinations when traveling to Argentina.
BOOK YOUR NEXT LOS GLACIARES ADVENTURE NOW !