Which Are the Best Hikes on Navarino Island?
Isla Navarino within the Tierra del Fuego archipelago in the South of Chile is home to some of the most spectacular scenery in South America and features one of Chilean Patagonia's most gruelling treks:
Avid hikers and adventure travelers wish to tackle the rugged Dientes Circuit Trek on Isla Navarino - the southernmost trek at the edge of the world. The hike covers beech forests, snowfields and rough landscape as it circuits the Dientes de Navarino mountain chain, with beautiful Beagle Channel views.
There are day hikes available, too, to see the Dientes Range, more suited to the casual hiker.
What Are the Top Activities on Navarino Island?
Outdoor adventures abound for those who travel to the end of the earth – to Ushuaia, across the Beagle channel and, finally, to Isla Navarino. Within this unfettered, most unpopulated wilderness, outdoor enthusiasts can hike, fly fish, camp, go horseback riding, flight-see over Cape Horn and watch for the black-browed albatross.
Are there alternative activities in case of bad weather?
If the weather does not allow you to cross the mountain passes and to camp out in the wilderness, there are other opportunities for outdoor adventure. Our guides know plenty of short and easier treks on Isla Navarino. Inclement weather is also a great time to visit Puerto Williams, the southernmost village of the world. Its harbor hosts an old steam boat that originally sailed on the Rhine River. The town also boasts a very interesting museum dedicated to the native indigenous population and their culture.
Why should I book with a local Agency ?
A local Isla Navarino tour operator can provide peace of mind, thanks to their expertise in the region, as well as experienced guides who have spent countless hours on the trails. In addition, a local agency can provide porter service to assist on your outdoor activities and, should the need arise, are able to provide emergency assistance and first aid. Every year inexperienced hikers get lost and some even lose their lives. Usually Porters carry the expedition tents, all cooking facilities and set up camp. Choosing a local travel company, like MOSER Active, also supports the community you are visiting and promotes mindful travel practices.
If you book the Dientes de Navarino Trek with MOSER Active, a certified and experienced trekking guide and porters for tents, dishes and food are always included in the trip price.
Will I have to carry tent & food on a Moser Active guided trek?
MOSER Active hires porters to carry tents, dishes and the food which we need preparing the main meals. You only will be responsible for carrying snacks and sandwiches, your sleeping bag and mattress, plus tour clothes and washing essentials. Make sure you are physically fit enough to do so.
Why should I bring gaiters and trekking poles?
It is common to cross snow fields on the Isla de Navarino trek. Even in the summer, it can snow on the island. The remainder of the winter snow fields don't melt until the end of the summer. Not only do you need gaiters to cross the snow, but you'll want them for muddy terrain, as well, as it's possible to sink up to ankle-deep in the mud. Trekking poles are also a great help when crossing beaver dams, slippery gravel slopes and swampy terrain. If you do not bring your own, so you can rent them from MOSER Active.
What happens in case of an accident?
On the Isla de Navarino, you are far away from civilization.Our experienced guides always bring a satellite phone with them. In case of an accident, they can call out for help. It remains important that hikers are physically prepared for a demanding, lengthy hike on complicated terrain. A rescue is very complicated on the Isla Navarino.
Can I drink from the rivers and lakes?
Yes. On each day of the trek, you can find fresh drinking water along the way. You will not need to carry huge amounts of water with you. The water is perfectly clean (almost) everywhere - your MOSER Active guide knows where to find the highest-quality drinking water.
Why is Isla Navarino also called "Island of the Beavers"?
In the 1950s, beavers were released on the big Tierra del Fuego Island and made their way to Isla Navarino. As they don't have any natural enemies, their population could spread very fast, from approximately 10 to 120,000 s. Therefore, you have an excellent chance to see beavers while trekking the Dientes de Navarino Circuit. You will almost certainly see their burrows and dams, which are used by hikers as bridges to cross the rivers. You may also see minks in the wild. They have escaped from a mink farm in Argentina and have risen and increased so much in population that they are endangering the ecosystem of the island.
When Is the Best Time to Visit Isla Navarino?
The optimal time to travel to Isla Navarino is during the southern summer, between mid-December and mid-March. Within that season, the very best weeks are from the end of January to the middle of February. As with other places in Chile, the weather is unpredictable and you may experience up to four different seasons in one day. Just remember to be prepared and flexible with your activity plans.
What is the weather like on Isla Navarino?
In Tierra del Fuego, the weather can change several times a day or even in an hour. You can experience summer heat and snowstorms or wind gusts in a short time. You will notice that especially on the days you will cross mountain passes. Thunderstorms, however, are very rare.
Do I need a vaccine when traveling to the Isla Navarino?
There is no obligation to get specific vaccinations when traveling to Chile.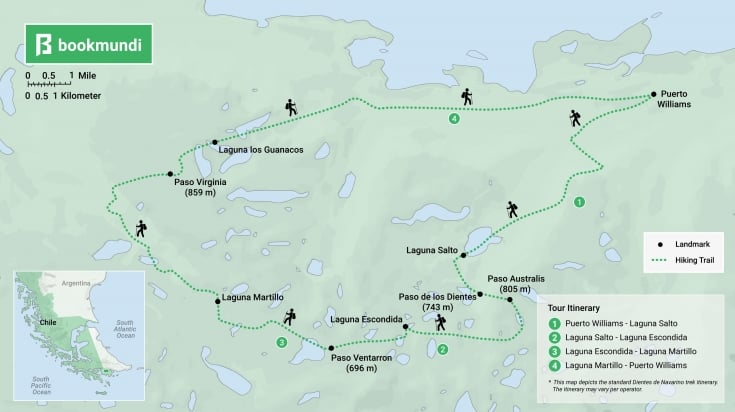 BOOK YOUR NEXT ISLA NAVARINO ADVENTURE NOW !