Christian Moser was born and raised in Austria where he developed a passion for hiking, trekking and the beauty of the great outdoors. He joined the Austrian military forces at the age of 19 and became a paratrooper. During his service he was trained in mountain guiding, search and rescue and survival. He traveled extensively across Europe and Asia; but it was South America that captured his heart and in particular Chile's mountains, glaciers, lakes and forests that convinced him to settle down in Puerto Natales in 2000. Prior to starting MOSER Active in 2004, Christian worked as a freelance mountain guide; leading international visitors on hiking and trekking excursions across the country. As the founder and director of the company, Christian runs the day to day operations, oversee sales and marketing efforts. Every single itinerary offered by MOSER Active has been mapped out, developed and tested by Christian himself. During his free time Christian can be found enjoying Chile's great outdoors, exploring new territory and constantly on the look out for unique places and new routes to offer.
Our Patagonia Trekking Guide Team
Our Guides make the difference!
MOSER Active guides have been working for the company between five to ten years, possess extensive experience guiding across Chile and are thoroughly familiar with the different areas they lead groups to. They are certified by Chile's National Forest Corporation (CONAF) and the National Outdoors Leadership School (NOLS) as a Wilderness First Responder (WFR) and refresh their certification every two years. All guides are equipped with satellite phones or radios for each trip. Our guides are enthusiastic trekkers, nature lovers and superb experts in the country and its people. They have a profound knowledge of the local life and tradition, speak at least two foreign languages and love to share their own passion for the destination with our guests.
At the same time, experienced staff takes great care of all administrational requirements cooperating with local Chilean partners.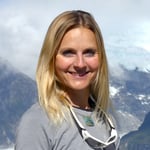 Vera Stölzner joined our team as a real career changer: after her business studies in Germany, she worked as a tax advisor in her hometown. Whenever possible she loved to travel; new cultures, people and countries have always been a special fascination for her and so it was only a matter of time until she decided to leave Germany. As a backpacker she traveled to many countries but in the end it was Chile, and Patagonia in particular, that she fell in love with. Vera is responsible for the organization of group tours and being a tax advisor she handles MOSER-Active´s accounting. She is trained by the National Outdoor Leadership School (WFR - Wilderness First Responder) and in addition to her mother tongue German she speaks English and Spanish.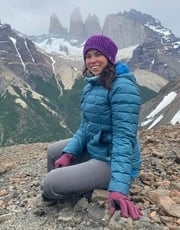 Karla was born in Punta Arenas and comes from a family of nature lovers. During her tourism studies, she discovered her love and passion for nature, hiking and the mountains. After extensive trekking and climbing tours across the South American and Euopean continent, she realized that her future belonged in to the mountains of Patagonia. Karla is a passionate climber. On her free time you find her climbing in one of the granite walls in Torres del Paine National park or in the French Alpes. Karla is trained by the National Outdoors Leadership School (NOLS) as a Wilderness First Responder (WFR) and speaks English, as well as her mother tongue, Spanish.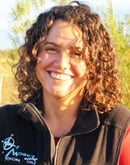 Tati was born in the Southern Chilean town of Valdivia. As a daughter of a Torres del Paine park ranger, she grew up in the national park and knows the mountains, the trails and wildlife as the back of her hand. If she's not on a hike she can often be found on the back of one of her beloved horses. Tati lived in Germany for 4 years where she studied agricultural sciences and ecology. She graduated in the Peruvian Andes and has successfully completed the WFR - Wilderness First Responder Course at the National Outdoors Leadership School (NOLS). Tati speaks Spanish as well as fluent German and English.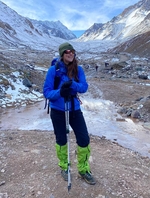 Mia has been passionate about outdoor activities since childhood. The impressive landscapes and open spaces, especially in Patagonia, fascinate and inspire her. After working for serval years in environmental policy research, she decided to move into the field and start a formation as a mountain guide. Guiding has given her the opportunity to be close to the mountains and the special environment that surrounds them. Studying and transmitting information about the functioning of the natural systems and the importance of their protection is key for her. In her spare time she enjoys climbing, photographing flora and fauna, and studying social, environmental and cultural interrelations of our times. In addition to her mother tongue German Mia speaks English, Spanish, Portuguese and French.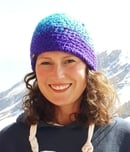 Ann-Katrin is an Outdoors Person; she loves nature, culture and travelling. In 2013, she fell in love with Chilean Patagonia and became a trekking guide in the Torres del Paine National Park. She enjoys teaching her guests about history, geology, flora and fauna. Apart from hiking and guiding, Ann-Katrin is a passionate horseback rider. She started riding when she was 4 years old, and it was through her work at a horse ranch outside of Santiago that she was able to see and learn about Chile and their people. Ann-Katrin is always looking for new things to do and she just started to learn how to ski at Valle Nevado Resort. Her goal is to successfully participate in courses (e.g.: mountain safety, Wilderness First Responder) to improve her knowledge and skills so that you can take home the best experience! She speaks English and Spanish, as well as her mother tongue, German.
Virginia was born in Cordoba / Argentina, where she attended German school. She discovered as a young girl her passion for the nature, trekking and her interest for different cultures. So she turned her hobby into a profession and studied tourism. Subsequently she lived and worked for one year in Switzerland. Her open minded mentality and friendly nature makes a trip with her very special and unforgettable. Virginia is trained by the National Outdoor Leadership School (NOLS) as a Wilderness First Responder (WFR) and speaks Spanish, German and English.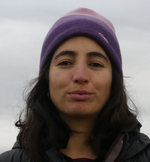 Rosario was born and raised in Santiago, she had the good fortune of traveling Chile from north to south. So she decided to make Patagonia her home to take root. With almost 10 years guiding through the southern latitudes, Rosario very much enjoys the time that guiding trips allows her to be outdoors in contact with nature, of which she is untiringly amazed by her adaptive and resilient power, which she would also be happy to share and communicate everything she knows about these landscapes with her travelers. By the end of the day, it is very possible that she is planning a trip that will take her to a different place on the map. Rosario is trained as a Wilderness First Responder (WFR) and speaks English, as well as her mother tongue, Spanish.

Gonzalo was born and raised in the Chilean capital of Santiago de Chile, where studied ecotourism. Many years ago, however, he traded big city life with the mountains of Patagonia. Since, he lives in Puerto Natales, where he has found the ideal conditions to pursue his passion for climbing and mountaineering. Several trekking tours have taken him to Peru and Bolivia, as well as multi-week trips throughout Europe. Gonzalo also completed an avalanche course in addition to a basic course in "Rock and Ice" and is trained by the National Outdoors Leadership School (NOLS) as a Wilderness First Responder and Leave No Trace. He speaks Spanish, English and some French.

Jonatan grew up in a small fishing village called Puerto Natales, that is situated in the extreme south of Patagonia. As a local, he knows the southern Patagonia region with its snow-capped mountains like nobody else. We are happy to have him as a local trekking guide on our hiking trips in Torres del Paine and the rest of Patagonia. Jonatan does not only bring in his vast knowledge of the local environment and culture, his friendly and open-minded nature is a true enrichment to our tours. He is trained by the National Outdoor Leadership School (NOLS) as a Wilderness First Responder (WFR) and attended several trainings in different parts of Chile. Jonatan speaks Spanish and English.

Andrés was born in the capital of the tango, in Buenos Aires, and grew up between El Salvador, Italy and Germany, where he lived for over 10 years. He returned to South American and worked as a trekking guide in Chapadinha, Brasil. Besides his many hobbies like nature and sports, he loves to study the Inca-culture. He attended Guide Courses in Alicante, Spain as well as the EF-Guide training in Paris, France. Andrés speaks Spanish, German, Italian, French and English.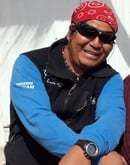 Enrique grew up in a small village called Parinacota, situated in the Chilean Andes at an elevation of 4,400 meters (14,435 ft.). As an Aymara Indigenous he knows the Altiplano highlands with its snow-capped volcanoes like the back of his hand. Enrique is a top member of our team and a fantastic local mountain guide on our expeditions to the North of Chile. Enrique loves to share his personal knowledge of the Aymara-culture, and his friendly and open-minded nature is a true enrichment to our tours. He is trained by the National Outdoor Leadership School (NOLS) as a Wilderness First Responder (WFR) and attended several trainings with the Chilean Mountain Troopers, based in Putre. Enrique speaks Spanish and Aymara.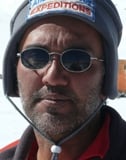 Erik was raised in Copiapo in the North of Chile and he calls the Cordillera de los Andes with its numerous summits his home. He ascended more than forty 6,000-meter (19,685 ft.) summits and hence is by far one of the most experienced local mountain guides in the greater area of Ojos del Salado and Puna de Atacama. He has also completed over twenty summit tours alone in the highlands of Ojos del Salado and his calm and cool-headed character make him our best guide for all mountain excursions in this area. Erik speaks Spanish and a fair amount of English.
Our Porter Team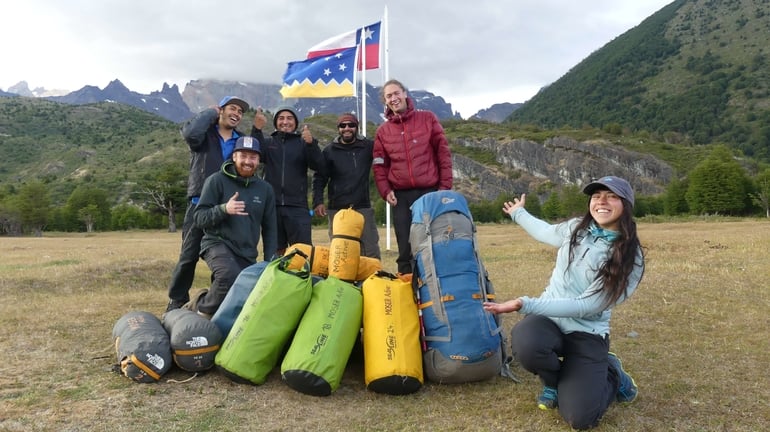 When contracting mountain porters, MOSER Active follows the guidelines of the International Porter Protection Group (IPPG) and ensures their salary is well above industry standard rates and exceeds the national minimum wage. Mountain porters carry up to 35 lbs. of gear, including tents, mats, and food. On tours that feature outdoor camping, porters set up camp, including building tents and campfires, and with the help of the guides prepare all meals for guests. MOSER Active provides one porter for every two participants.