Hola, I hope you are well.
We wanted to give you some feedback on the tour: We would like to thank Chacho. He did his best to ensure we had a memorable experience. He maintained a good pace for the group,always checking that we were comfortable and gave us excellent tips throughout the trip to maintain our energy. He is extremely knowledgeableof the area, which was very reassuring. Also, he was fun to trek with!
Overall we truly enjoyed it.
Many thanks, Laetitia & Nicolas, France - March 2023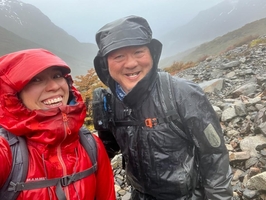 Hi, I'm back home safely.
Thank you for all the help, it was an amazing trip - exhausted, but wonderful. My guide Karla and porter Jonathan, both are great.
Best, Ricky, USA - March 2023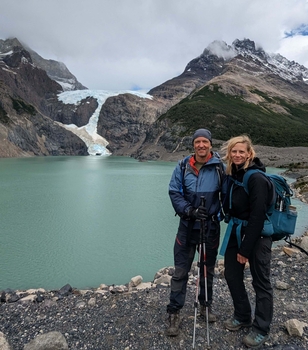 I just wanted to check in and say that we had a wonderful time on our O circuit trip last week. It was truly spectacular, made all the more so by Chacho who, as I'msure you know, was an extraordinary guide. Not only did we learn a great deal from him about the park, but he was extremely thoughtful, constantly attentive to ourneeds, and clearly dedicated to ensuring we had an incredible experience. I honestly can't say enough great things about him. Though we obviously interacted withhim less than with Chacho, we thoroughly enjoyed Nico as well, and we were very confi dent in him as a second source of trail support.
Thanks again for everything!
Doug and Andrea, USA - February 2023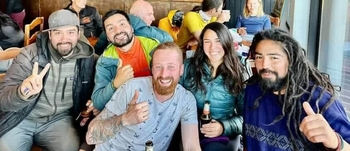 My Patagonia Active tour turned out to be INSANE! So much beautiful nature and unforgettable emotions. Torres del Paine O-Circuit is hands down once in a lifetime-like experience! The tour organization was very smooth. Our mountain guides were incredibly caring, informative and very good psychologists. It's an important skill to have when you need to motivate a group of people though 7 days of physical hardship :)
Communication with the Moser Active team was easy and fast. They provided all needed support and were very flexible if any last minute changes appeared, I felt well taken care of. I would for sure recommend Moser Active further and book again if I have a chance!
Thank you once again for everything!
Antonina, Poland - January 2023
Thank you for the good organization of the Patagonia active trekking! It was very well arranged. We have had a great hike in Torres Del Paine. Andres and Jaime have supported very well and a recommendation for the next guests! We really enjoyed the trip! Last couple of days could be a bit more challenging in terms of active hiking activity (Perito Moreno Glacier e.g.) so we have also had quite relax time ;)
Frank and Jan, Netherlands - December 2022
The Torres del Paine O-Trek was quite demanding with some long days but very enjoyable. The area was beautiful. The Atacama was a great add-on. This travel specialist was brilliant. Very well organised with very good guides and porters and coordinated by Vera who made sure everything went well.
Bob, England - Dezember 2022
Many thanks for the whole organization! We had a wonderful time!
Everything worked out great - Karla is a really good guide. We felt very well looked after :) She could explain a lot, was funny and super nice. Everything was great with the porters too.
An unforgettable journey! Hanna, Germany - November 2022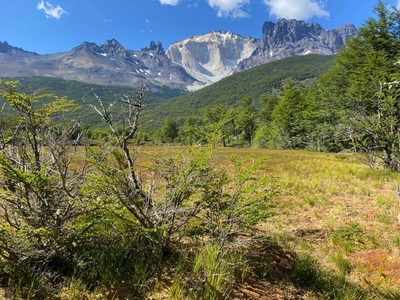 Dear Vera, I'm on my way back to Germany. I'm using the time to review my trip and would like tos ay a big THANK YOU again!
Thanks for the great preparation and advance information! The trip was amazing! Every day brought new wonderful impressions and I would like to take this opportunity to express my gratitude to Karla: Always in a good mood, caring and competent (her knowledge about the park,the mountains, flora & fauna and she was happy to share it - hardly a question remained unanswered). As a group, we had an impressive and very very funny trip - effort and "comfort renunciation" (well, I found it mostly quite comfortable) are secondary! Great praise and unconditional recommendation :)
Best regards, Verena, Germany - November 2022
Hi Vera! Finally made it back home earlier today. Thank you so much for organizing a wonderful trip! I think it was a good balance of planned activities and time to explore on my own. Unfortunately the weather wasn't ideal for the second half of the trip but that's not really something you can plan for so just tried to make the best of it! Still overall a very memorable and great trip. Guides were great, and transport went pretty smooth.
Thank you again! Jasmine, USA - October 2022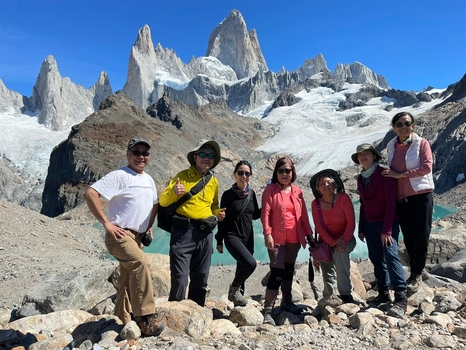 Mission accomplished!
Just want to let you know that we are heading back to the US. Thank you for the wonderful arrangement for the group while we were in the region. It is an unforgettable trip to Argentine Patagonia for all of us. Pablo and Laura are great guides. We could not ask for more. They gave us lots of insight of the region. Their language ability exceeded our expectation. The guide for the Glacier tour was not able to provide that level of insight. Pablo and Laura also gave me extra attention so I was able to summit to see Patagonia - I am just so happy that I did what I came for.
Julie and hiking friends - United States, February 2022
Hi Christian and Vera,
Thank you for diligently planning and coordinating my travels during a crazy time. I didn't think I would feel comfortable traveling internationally, but after going through it, I'm ready to go on my next trip abroad.
The Argentinian side of Patagonia was spectacular and the weather and views to/from Fitz Roy completed my vision of the Patagonian mountains. Our group felt very accomplished.
Ushuaia was a completely different environment, reminding me of San Francisco - cooler and with beautiful mountains. The team at Ushuaia (Jorge & Marcella) were super accommodating and they made my excursions more enjoyable. The other group participants were all local Argentinians and made me feel welcomed - I've made new friends along the way. I will definitely recommend Ushuaia to anyone traveling to the region. The hikes were equally challenging and the service they provided was excellent. It was a great way to end the trip!
Thank you again for the adventures and I hope to see you again soon.
Daisy - United States, February 2022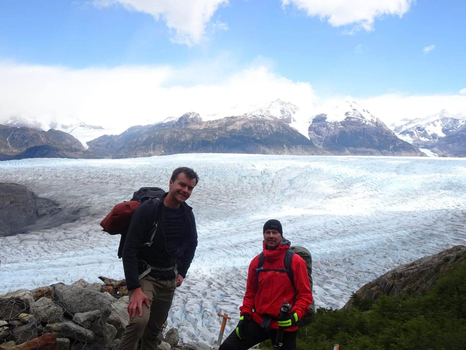 Thank you for making an amazing adventure possible!
Even before the trek began (Torres del Paine O-circuit), Moser helped organize every detail for my entry into the country, advised me on gear, and made sure I understood the days ahead. The trek was an incredible experience thanks to our knowledgable guide's experience with and love for Patagonia. Many details taken were care of, providing me the freedom to enjoy the beauty and reconnect with nature confidently and safely. Very grateful and hope to return soon!
Jonathan - United States, February 2022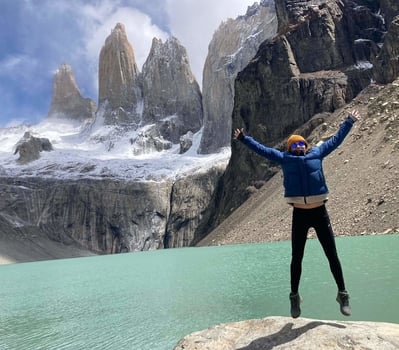 Made it back to LA, wish I was still down there - Thanks again for everything!
My trip to Patagonia this December was one of the best trips of my life and I have Moser Active to thank for that. Trying to plan a vacation during COVID and during a surge when the regulations in both Chile and the United States were changing from week to week was daunting, but Moser Active was in constant communication with me and outlined exactly what I needed to do so clearly. If something changed, they let me know immediately and I was able to adjust. They have so many trip options and the one I chose was incredible.
The landscapes on the W trek in Torres del Paine sell themselves, but my guide provided by Moser Active added to the experience and was so wonderful. She was excellent company and knew everything about the geology and plant life of the area as well as the history. The whale watching trip, glacier boat rides and ice hiking options that they provided were unforgettable!
Working with Moser Active just made everything so easy. I've already told so many of my friends to use Moser Active when they go to Patagonia and WHEN I go back I will most certainly use them again!!
Jenny - United States, January 2022
Hi Vera,
We just wanted to say thank you so much for helping coordinate such a fantastic Torres del Pain O trek! We had a wonderful time with Karla and Danny and a fantastic experience.
All the best!
Michal and David - United States, December 2021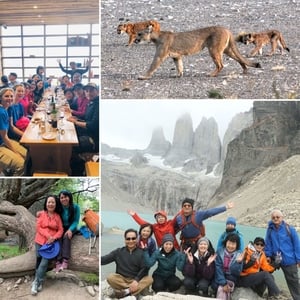 Dear Christian,
Thank you and MOSER team for guiding us through wonderful w circuit hikes.
The tour is a great experience for all of us. We are very thankful for the great day-to-day coordination by Vera, great tours guided by Anna and the personal attention Karla provided to Julie. We all came home with warm thanks to MOSER!
Team Puma - United States, March 2020
Moser Active by far is the most organized company! Our transition from trek to trek went seamlessly due to Vera! She was so helpful at making this trip run smoothly and we had a blast! Karla for the O circuit and Juan for our Argentina treks were amazing! Highly recommend anyone to use moser active for any outdoor adventure!

Allyse - United States, January 2020
Hi Moser Active Team,
we had the most incredible time in the park , hard to describe how much we loved it and how special it was. Ivan was truly amazing, he made our trip what it was and we had the best experience with him. He is a fantastic guide and we are so lucky to have had him.

We feel very happy and lucky to have done the circuit - it was the experience of a lifetime. Thanks for all of your help and assistance in getting the trip organised and helping me and Greta, answering questions etc. You made it so easy to enjoy and not have to worry about it. We would use Moser Active again as it was so easy!
Thank you so much!

Tom and Greta - United Kingdom, January 2020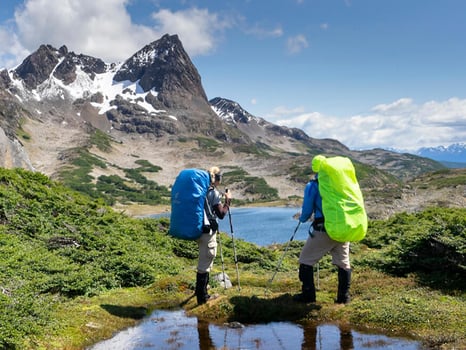 Torres del Paine Circuit & Dientes de Navarino trip: both of the treks were superb. I thoroughly enjoyed the team that took me round the O circuit, but now I'd like to do it in winter ! Great guide and porters and fun clients (there were only 3 of us) !
If I was to chose my favourite would be Dientes de Navarino because it is roughly off the beaten track and the weather was wild, we had a serious blizzard day after Escondido and it was brilliantly challenging. Imperative to have a guide with local knowledge even if you have a map ! Also some super attention to detail from Vera. Overall an excellent experience.

Lucy - United Kingdom, December 2019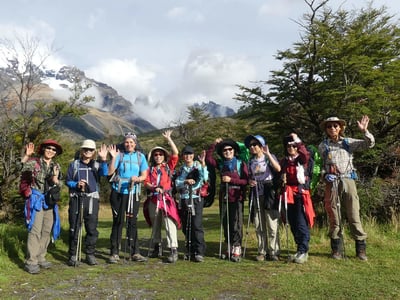 Dear Vera,
Thank you so much for the wonderful pictures. They just brought back all the wonderful memories of our hiking trip to Patagonia. You and Christian had done an absolutely wonderful job organizing the trip for us. And your carefulness and thoughtfulness for all the little details for everyone in the group was just amazing. You made our trip so smoothly and so enjoyable. I have recommend Moser Active Adventures highly to many of my friends who expressed interests in going to Patagonia.
We would definitely get in touch with you if we are planning another trip to northern Chile. Best wishes to you and Christian!
Regards,
Shin Y. Lee - United States, April 2019
Dear Christian,
I'll like to thank you for the Patagonia hikes. It is most scenic area of all the hike that I have done before. Izabela and Vera are the best guide we had. They are the best team together. I am very enjoy the trip. I plan go back there with my family and other friends in the future.
Best Regards,

Yeao-Nan - United States, March 2019
Based on friends' recommendations I engaged MOSER Active for my group's Patagonia and Ushuaia adventure. Everything was planned by MOSER Active to the last detail. We trekked the Full Circuit in Parque National Torres del Paine in Chile, El Chaltén area and a day trip to Perito Moreno Glacier in Parque National Los Glaciares in Argentina, and Ushuaia in Argentina. We all had fun and are happy to recommend MOSER Active for your adventures in the Patagonia region - you will be happy with the results!
Jacob - United States, March 2019
Hi Christian,

I very frequently find my mind wandering back to Patagonia and my beautiful, amazing experience there. Quite simply, the trek blew my mind and exceeded any expectations I had going in; it was basically a life-changing adventure for me. It was more challenging than I expected, but in the best of ways...I pushed myself further than I could've imagined in one of the most beautiful places I have ever seen. It helped that I had a wonderful, supportive group of people with me. Even more importantly, our guide; Nico; was simply amazing. His organization and detailed nightly briefings meant we always knew what to expect, and he was very supportive on the trail. He was constantly teaching us and telling us stories as we went, which made it all the more interesting. All equipment provided for us by the company was good, and the porters were wonderful...I can't express how great it was to have our tents set up and waiting for us at camp each night! I was not envious of the independent hikers having to set up their own tents, and cook their own food that they'd carried along on their own backs ;)

From the minute I first contacted Moser Active about this trip, I knew you were who I wanted to entrust with organizing my trip. You were the only company out of many not only willing to guarantee a trip for a solo traveler at a reasonable price, but also willing to customize the trip around my exact travel dates. From then on, every question/concern I had was quickly answered; I was never left waiting or wondering. I am very happy with my choice, and will cherish these memories forever. Thank you THANK YOU for a fantastic adventure!

Renee - United States, November 2018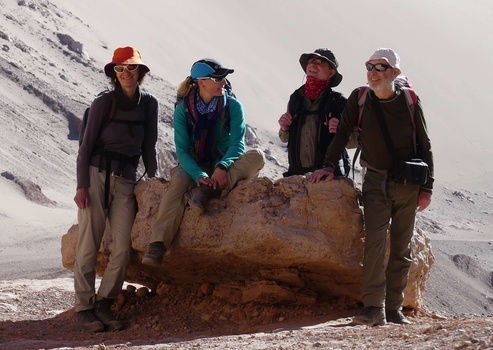 Dear MOSER Active-Team,

thank you so much for this outstanding adventure trip through the extreme north of Chile. Hard to say what we liked more. All in all, it was the diversity of the landscape, the culinary experience and the wonderful hiking tours and off-the-beaten-path treks in the Altiplano highlands & Atacama Desert that made this journey unique.

Astrid & Thomas, Germany - March 2018
Overall, my experience with MOSER Active was top notch. I initially started researching hiking Torres del Paine and attempting to book my hike on my own. It really was a big hassle and other hikers I met along the way agreed. Signing up with MOSER Active was one of the best decisions I made. It took all the planning and worrying out of the equation. They were excellent at communication and organized a great trip for us. The guide was very experienced, highly informative and had a wonderful attitude. I highly recommend using MOSER Active when planning your trip to Patagonia!

Marty, United States - December 2017
Hi Christian,
Trina and I had the most awesome vacation ever! We have already been singing your praises to our hiking group. Thank you for all your meticulous planning; we really appreciate how smooth each segment of our trip went and wholeheartedly recommend you without reservation.
We have such wonderful memories from our Patagonia adventure!
All the best,

Ann & Trina - United States, December 2017
Dear Vera, Dear Christian,

I would like to thank you again for the unforgettable days on the Isla Navarino. The trek has everything you could ask for: deep snow hiking, steep climbs, sunny hours, one or two climbs on the rock, beautiful views and views of the incomparable nature of Tierra del Fuego and pictures that I remember all my life. The days were quite challenging and not every ascent or descent a breeze, but that's why I could take a lot for me and my career and that's what made the trek so special. I'm proud of myself, incredibly thankful for you and your devoted care. From the transfers, the schedules and the food - everything was thought, with you I would every time again in the 'wilderness' pull. I hope to meet you - be it privately or again on a mountain somewhere in the Pampa. Thank you for everything and all the best for the future.

Lara, Germany - November 2017
Dear Vera,

just arrived, greeted, experienced some together and then it is over again, our time with you and Christian. We would like to sincerely thank you for the great organization of this fantastic journey. Everything went so smoothly and we felt very comfortable in your "care". You can tell that you are doing your job with body and soul. We have experienced a lot of exciting and interesting things and the nature here in Patagonia fascinated us completely. We take tons of memories with us to Chile and also to you and Christian. Now we are looking forward to the days in Argentina and know already, everything will be perfectly organized!

Jaqueline & Benno, Switzerland - November 2017
Dear MOSER Active team,

I want your company to know that I had a wonderful trip! If I ever come back I would consider your company again. Jonatan did a fantastic job! He put up with 6 women and he survived. Even with the itinerary change due the fire, I had a spectacular trip, I was ever disappointed!

Chelsey, United States
Dear Christian,

Overall, this trek exceeded my expectations! Our Guide Jonatan went over and above to help us and his knowledge of the park was the point that made the trek unforgettable. He was punctual and made us all feel comfortable and safe. Fantastic trip – I will recommend MOSER active to my american friends!

Sherry, United States
Hi Christian,

Just a short note to say thanks for running the trip just for me last week in Torres del Paine. I´ve never used a guide before but you should know that I thought Markus was a really great guide - totally organised but easygoing company, plenty of delicious food, good knowledge about the park history and wildlife, observant about my level of walking ability and he probably told you that we had perfect weather, too. 4 days of pure sunshine. Bliss. He also went the extra mile and helped me book bus tickets to leave Natales. Really appreciated that you guys met my limited timeline and were flexible enough to run a trip for me as it made a huge difference to my experience in the Park. Thanks again and best wishes for the future!

Nerida B., Australia
Hello Christian and Team,

An experience of a lifetime and after traveling throughout the world, never have we seen the level of professionalism and flexibility within a travel organisation. Our guide 'Gabi' and porters 'Jose' & 'Che' were fun loving, knowledgeable and a pleasure to trek with. We highly recommend to any traveling to Patagonia especially fellow Australians.

Regards
Beau & Hannah Waters, Australia